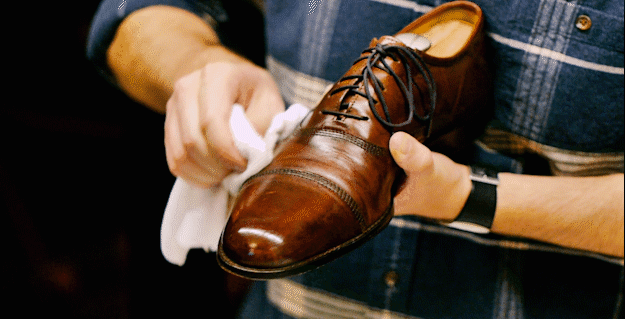 How to shine your shoes
Shoes are the foundation of every outfit, and preventive maintenance helps leather look better and last longer. Shining every 1-2 weeks repairs the damage of daily wear and nourishes your leather, keeping it flexible and healthy.
The process is easier than you think - follow these four steps to keep your boots, oxfords, and wingtips as well-groomed as you.
Prior to polishing, nourish your leather with conditioner lotion. Conditioner removes surface area dirt and neutralizes salt stains which penetrate leather's porous surface.
Wipe on a liberal amount and allow the conditioner to nourish leather for 1 to 2 minutes.
Wipe off the excess conditioner and dirt with a microfiber cloth to create a smooth, clean canvas for your polish.
Products: Pre-Shine Conditioner Cleaner, Microfiber Cleaning Cloth
Using a horsehair polish dauber, apply a thin coat of wax in circular motions to the entire surface of the shoe. Wax polish protects your leather from scuffs, scratches, and water damage, reviving its natural shine.
Only use enough polish to create a thin film. (The more wax on the shoe, the more difficult it will be to brush the shoe in Step 3.) Once applied, allow the polish to set for five-ten minutes.
Products: Horsehair Polish Dauber, Carnauba Wax Shoe Polish
Using short, fast strokes, lightly brush your leather. The friction from buffing warms up the wax and natural oils, helping spread them across the shoe's surface. Work the brush in a diagonal pattern (cross-hatch your strokes) to ensure the wax fills all of your leather's perforations.
For a deeper shine, repeat Step 2 and 3 to gradually build a thicker layer of wax. Stop brushing when you can slide your finger across the shoe without feeling any drag.
Note: Buffing the shoe requires some technique but a soft-bristle brush makes it easier. Also, be sure to use a different brush for each color polish.
Product: Horsehair Shine Brush
Place your shoe on the shine box's footrest and thread your polish cloth through its shine bars. With gentle upward pressure, work the cloth back and forth across the surface, paying particular attention to the shoe's upper section and toebox.
Polish each shoe to your desired shine - consider the job done!
Products: The Executive Shine Box, Extra-Long Polish Cloth